AZORES COMPLEX
Azores Complex is a sculptural group exhibited in September of 2020 at Espositivo (Madrid), as part of my Degree show. It is composed of several sculptures produced on the previous months. During that time, I started to reflect on the role location has on our consumption habits. As a Spaniard with deep interest in fashion, design, architecture and (of course) art, it sometimes feels eerie that my Instagram feed is always flooded with foreign content. Finding myself aware of the latest Nike release, the latest Migos song, or the new Serpentine Pavillion, I wondered why everything relevant to international culture seems to happen not here. The following display tries to obtain answers to two main questions: How does one become a participant in the international scene? How are our habits influenced by the role our country has in the world?

The elements that form this dialogue are created at my home, with my own 3D printer. These objects, selected and isolated, are a representative fraction of the environments on which I intend to focus the viewer´s attention. Consequently, arranging them next to each other generates a dialogue between their individual origins and contexts. The central aim of the installation is to orchestrate connections with matter that has been conformed within the realms of my intimacy, but points to external entities and foreign issues. An intimacy that is heavily influenced by geopolitical interactions.

This display is formed by a compliation of 3D scans taken from my journeys through commercial areas, from visits to car dealerships to browsing online sneaker resellers. They seek to make relations tangible, linking points generated by the behaviour of our consumer culture. An effort to understand how our desires replicate the relevance of our nations at the NATO meetings.

In 2003, an eclipse happened in the Azores Islands: a meeting between the Spanish president Aznar and the US, UK presidents made Spain a participant of the Iraq War. In 2020, another spanish figure makes her connection with the US visible: Rosalía appears in an Instagram post with Travis Scott. Months later, a collaborative song between the two is launched, exporting the the Spanish folklore to American industry.

Weaker countries appear to be bound to imitate the movements of more globally relevant countries. They look up to them, welcoming the products of their industry and supporting their geopolitical strategies. Their population, having grown in this environment, will be caught in the scheme, embracing the tales from the motherland. A Madrid home with a closet full of Nike Air Forces, an iPhone with Rosalía and Dua Lipa as recently played songs. The satellite is always aware of what happens above it. The American touch rivalling King Midas´.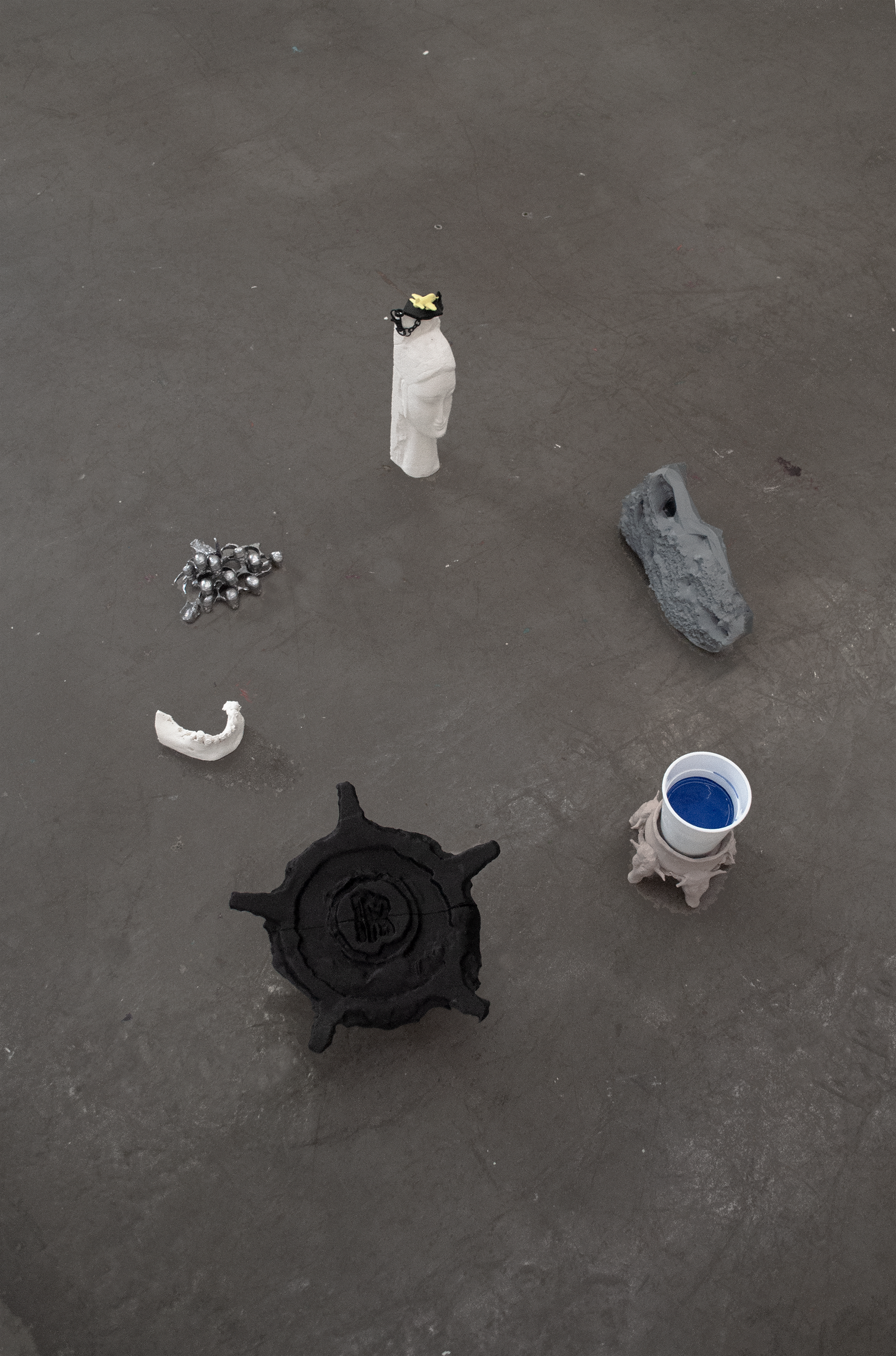 Installation view. PLA, clay, lean, lead
A printed scan of a Rolls Royce Cullinan rim. After being denied an entrance to the Madrid´s Rolls Royce dealership, the scan for this piece was made by taking screenshots of a YouTube video showing the car. What's importante to have present is the brand, the ornament is just an accesorry that amplifies the physical presence of Rolls Royce as entity. What's desired is the the glance at a surface marked by the rolls Royce logo. Above it, a replica of a Herzog and de Meuron piece of furniture, which was displayed at my home after finding the free printable model online.
A lean cup over a model of a Tartessos cup featuring bull heads. Spanish historical heritage aproximating to the US entertainment industry, serving as ornament to his habits and ideology.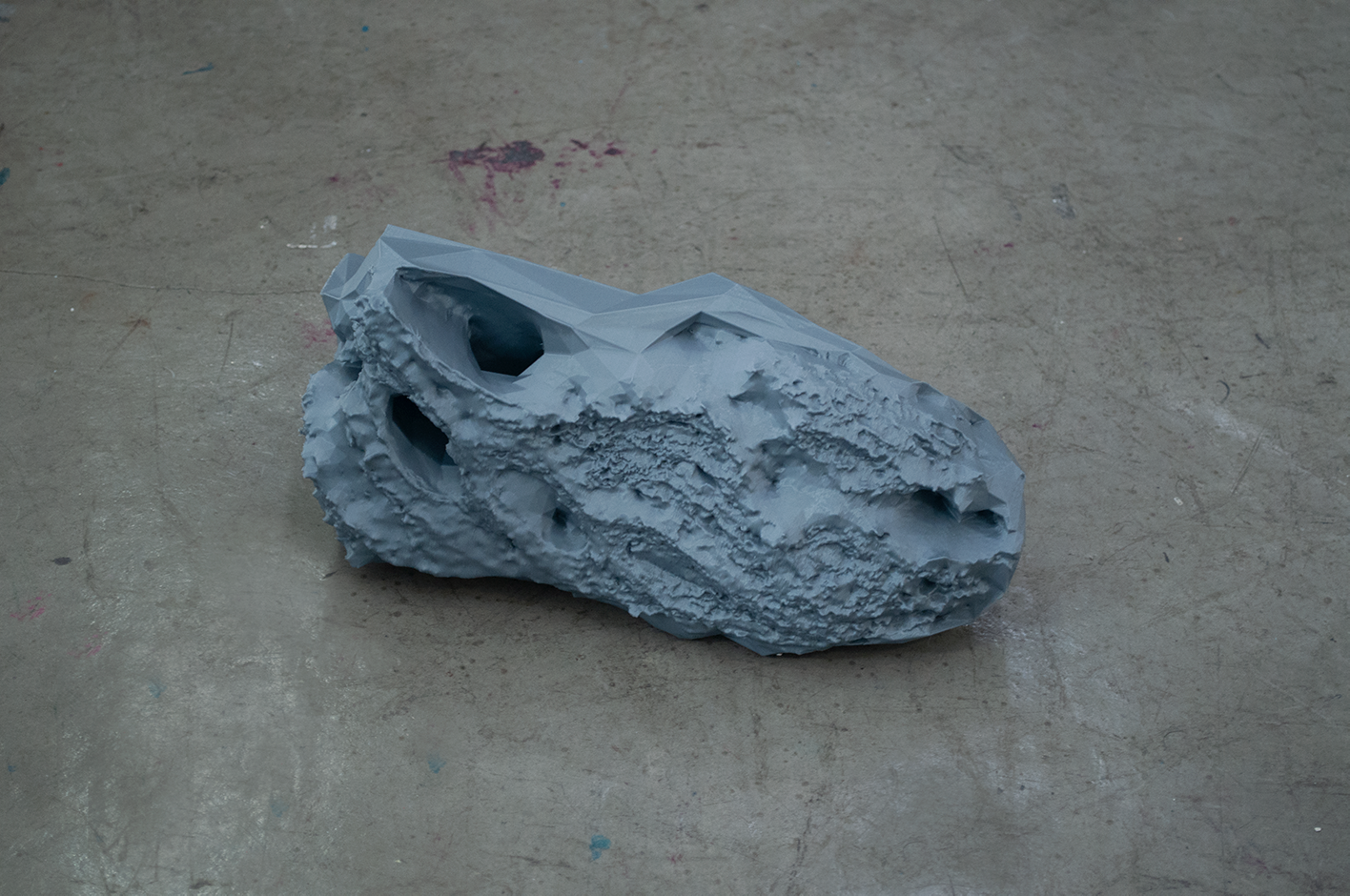 3D scan of a Yeezy sneaker taken from screenshots of Stockx
A mandible scan with Louis Vuitton grillz. An organism approaching American representatives
Modigliani head as a monument to colonialist culture: the elevation of an aesthetic to art when a renowned European name embraces it. A punk jacket by Raf Simons worn by Drake in a music video.