Azores Complex is a sculptural group exhibited in September of 2020 at Espositivo (Madrid), as part of my Degree show. It is composed of several sculptures produced on the previous months. During that time, I started to reflect on the role location has on our consumption habits. As a Spaniard with deep interest in fashion, design, architecture and (of course) art, it sometimes feels eerie that my Instagram feed is always flooded with foreign content. Finding myself aware of the latest Nike release, the latest Migos song, or the new Serpentine Pavillion, I wondered why everything relevant to international culture seems to happen not here. The following display tries to obtain answers to two main questions: ¿How does one become a participant in the international scene? ¿How are our habits influenced by the role our country has in the world?
The elements that form this dialogue are created at my home, with my own 3D printer. These objects, selected and isolated, are a representative fraction of the environments on which I intend to focus the viewer´s attention. Consequently, arranging them next to each other generates a dialogue between their individual origins and contexts. The central aim of the installation is to orchestrate connections with matter that has been conformed within the realms of my intimacy, but points to external entities and foreign issues. An intimacy that is heavily influenced by geopolitical interactions.
This display is formed by a compliation of 3D scans taken from my journeys through commercial areas, fromvisits to car dealerships to browsing online sneaker resellers. They seek to make relations tangible, linking points generated by the behaviour of our consumer culture. An effort to understand how our desires replicate the relevance of our nations at the NATO meetings.
In 2003, an eclipse happened in the Azores Islands: a meeting between the Spanish president Aznar and the US, UK presidents made Spain a participant of the Iraq War. In 2020, another spanish figure makes her connection with the US visible: Rosalía appears in an Instagram post with Travis Scott. Months later, a collaborative song between the two is launched, exporting the the Spanish folklore to American industry.
Weaker countries appear to be bound to imitate the movements of more globally relevant countries. They look up to them, welcoming the products of their industry and supporting their geopolitical strategies. Their population, having grown in this environment, will be caught in the scheme, embracing the tales from the motherland. A Madrid home with a closet full of Nike Air Forces, an iPhone with Rosalía and Dua Lipa as recently played songs. The satellite is always aware of what happens above it. The American touch rivalling King Midas´.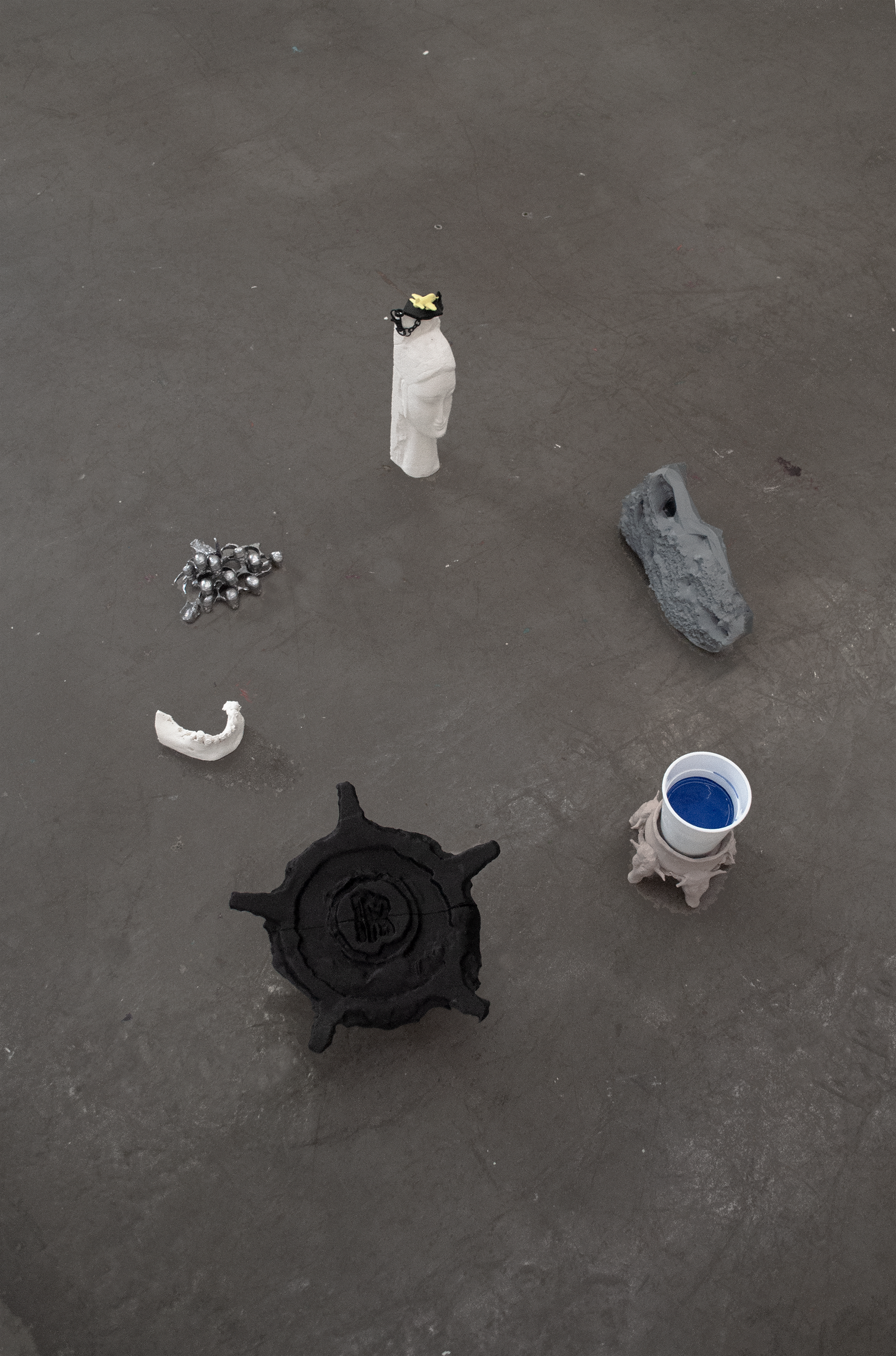 Installation view. PLA, clay, lean, lead
A printed scan of a Rolls Royce Cullinan rim. After being denied an entrance to the Madrid´s Rolls Royce dealership, the scan for this piece was made by taking screenshots of a YouTube video showing the car. What's importante to have present is the brand, the ornament is just an accesorry that amplifies the physical presence of Rolls Royce as entity. What's desired is the the glance at a surface marked by the rolls Royce logo. Above it, a replica of a Herzog and de Meuron piece of furniture, which was displayed at my home after finding the free printable model online.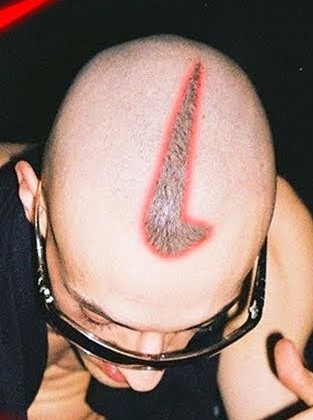 A lean cup over a model of a Tartessos cup featuring bull heads. Spanish historical heritage aproximating to the US entertainment industry, serving as ornament to his habits and ideology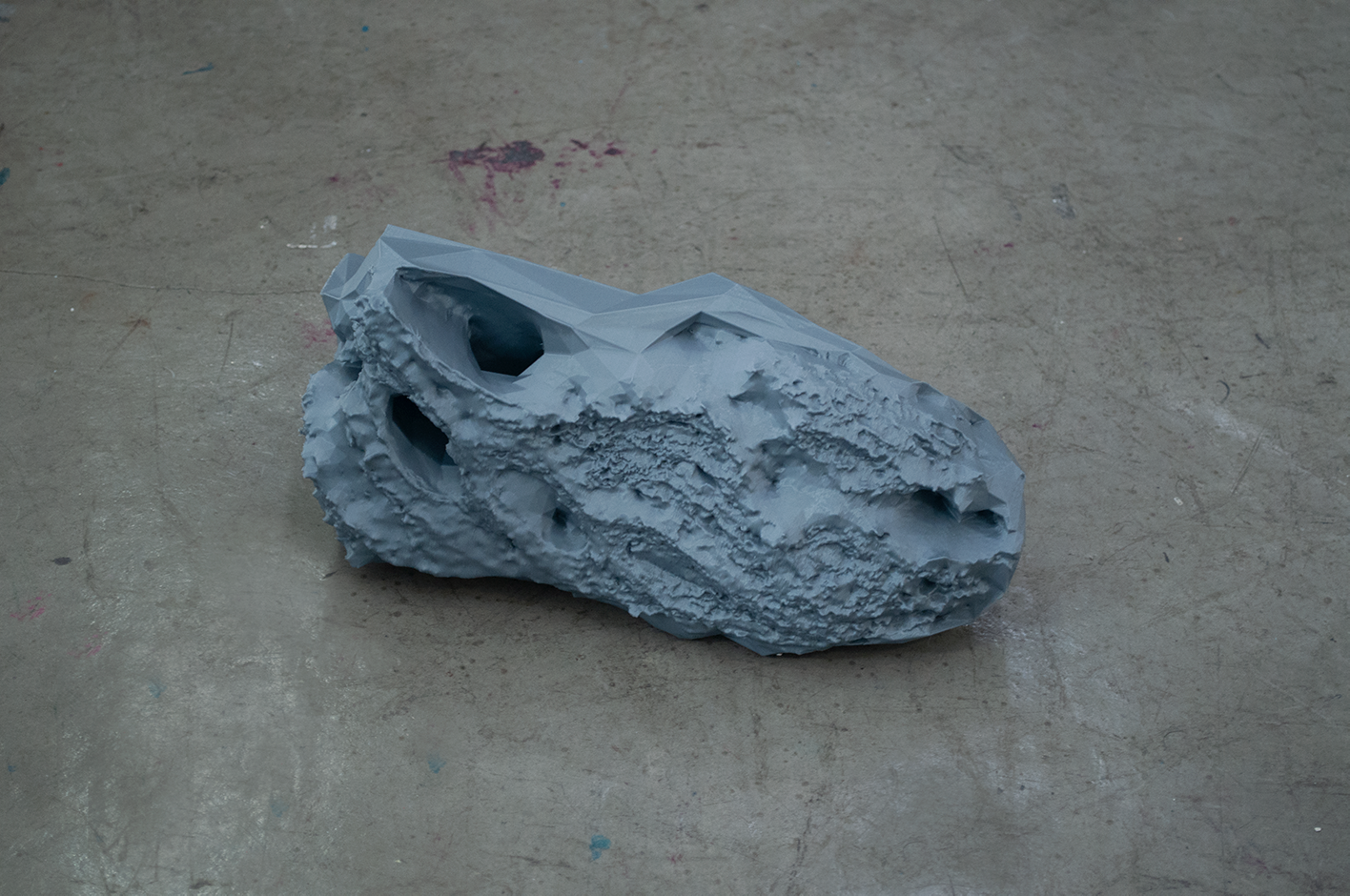 3D scan of a Yeezy sneaker taken from screenshots of Stockx, a site that sells fashion products as collector items. An object certified as an object of desire because Kanye signs it. This show reafirms his power and influence, being able to release extreme designs that sell out
A mandible scan with Louis Vuitton grillz. An organism approaching American representatives
Modigliani head as a monument to colonialist culture: the elevation of an aesthetic to art when a renowned European name embraces it. A punk jacket by Raf Simons worn by Drake in a music video.
Azores Complex by Olivier Pagy

On the grey concrete floor; indented with shoes, their soles of the past; these 3d Scanned objects exist in a state between function and dysfunction. Their functions are nearly operational, but to what end? Do they talk of their process, how web images come to life, is this their afterlife?; breathing in from the web, in need of a hand to exist in this planet; breathing out into the coil that prints them, o' the coil that loses itself into the process of creation.
As they form, these scans of commercial products are displayed in a method that generates intermediary connections and relations between the main strand of culture. Or, are they hinting at to satellites of it; the interpersonal associations, interpretations of the same bulk of information, such as different reflections of water in different glasses? Do they attempt to allude to how satellites are absolved, or are they melanged objects beginning to question their birth culture; existing somewhere in the movement of it? A concrete position, for some poses for the limitation of their capital return, of the music; carving into it, like a scratched, cracked voice, no longer visible; hence the distortion of the scan.


Read more

The objects: [a printed scan of a Roll Royce Cullinan rim, made from Youtube screenshots (after being denied an entrance to a Rolls Royce dealership); A Yeezy foam runner taken from screenshots of a tweet from Kanye West (@ye); a lean cup holder featuring bull heads and a cup filled with leche con azucar supported by Rolex Submariner scans; a 3d scan from the intersection between a street in Madrid and the wall of the US Embassy in Spain; The face of drake embodying deactivated street violence (inspired by him wearing a 10,000$ designer bomber jacket; Louis Vuitton grillz, a branded organism; Modigliani bust with DHL and Dover Street Market keychains—].
Azores Complex is a sculptural group formed by printed 3D scans of found and commercial objects. They emerge from novelties, under a social vacuum; in a specific context. The vacuum arises out of a need, a hunger, an absorption; Travis Scott's theme park, Astroworld's entrance comes to mind.
Their context is their materiality, that they have come to life, and are available to view and explore in real life. What is at hand, it their own multi faceted-ness, not only that, but also essays that capture the fissure between objects and desire. The sculptures arise out of the isolation and inspection of the initial object they have no longer become. The essays within the sculptures are experiences; situations. These experiences, as the object is no longer at a home of its own: is in need of an environment, generated from a position of economic, and thus cultural, hegemony, a platform that has enough resources to influence others. At the same time, the commercial products need to be validated by said hegemonies to exist within them; to be bought. What we consume needs to function within the frontiers of the system. The intuitive text of emotions at home verify, obsess; over objects, concrete materiality, 'what's its name, who is it' are just examples of a state of mind.
Consumer culture expands its frontiers with the absorption of the outsider aesthetics. DHL t-shirts are sold at Dover Street Market. Trust-fund kids take a Tesla Uber, dressed as delivery guys who don't need to scan packages. Drake wears a 10.000$, punk inspired Raf Simons bomber jacket in a music video. Rosalía dances flamenco in full Louis Vuitton, wearing plastic gel nails. Through this, the satellite aligns with the central body; the abstract flood of culture, by becoming a part of its exchange. Through this relations enter into objects; and they are created out of them; consumption, even in creation, lays its head on the marketplace; which is already in flux; where the lign of influence of an object is already as multi-faceted as itself. Temporal demands are met under the vacuum of progress; isolated strands of society come to one under the shade banknote. Material revelations fuse the scanned simplicity of contemporary living; the politicalisation of an object. The artistic intent behind it derives out of the responses to it.
And this is precisely where the fissure of David's Azores Complex exists. They are the response; the essays of the contemporary; opening a theoretical gate into their own response through their abstraction. Like competitions, the race, what is imagined, creates images against what is; it approaches, from different angles, like the scanned sculptures that concentrate their joie de vivre into their own materiality; thus reading this engraved meaning. But the question at hand is not just of materiality and abstraction. It is about the freedom in our decisions; and our culture already proves that: The voice of a car hums through its Italian engine; blasting Travis Scott, pulling into the Drive Thru for a Chinese take out. The real question is, If you're hungry, and you admit it, then you come to make your own decisions. Are we just passive beings that follow whatever is imposed in every historical instant? Maybe we just want to fulfil the desires we conform after endless hours of cultural consumption. Do we adorn our lives' objects to resemble one modelled after it?
According to David, maybe celebrity photos, are the new erotic car posters. An expensive car is an accessory for the Playboy aspirant, bought with the naked lady in mind. We want to buy a pair of 2000$ Jordans because we want to be more like Travis Scott. The question is, do we just like it, or is there something beyond it?; Creating relations between objects, reading into the hand of the past. [Give today], screams the voice of today, rest the activism for the communal, [quieten your brain], [give today], the peripheries of your imagination—to the world; [speak English], give to the monument of Capital. [Be a part of the flux.]
It is these social instances that present the place for the installation of Azores Complex. The meet between the arts, such as fashion and streetwear is already a thing of the past. What we think, now influences brands ever than before; hence why the instagram @dietprada, functions so well, as a catalyst into the fuse between young creatives, who, are in turn consumers, and the global brands, that function as their own boundless countries, where the currency of the time is solely desire. The play between the brand, and the consumer has created these sculptures.

©David Guerrero 2015-2021, all rights reserved